Top Five Prank Movies Ranked
In the last twenty-five years or so, the 'Prank Comedy' has established itself as a genre of its own. I'd define 'Prank Comedies' as hidden camera / reaction based art in order to illicit embarrassment, humor, and jaw dropping moments. Similar to the mailers we have on whatprank.com.
For me, a lot of these titles were ones my dad would let me rent from Blockbuster when my mom was out of town. These were seen as raunchy comedies early on and have evolved into something greater. 
These movies can sometimes be seen as a lower form of humor by snooty, boring, human beings... when in reality there are some A-class level talent attached to most of these projects. Oscar winners like Spike Jonze, Sacha Baron Cohen... on screen talents like Eric Andre, Tiffany Haddish, Johnny Knoxville... and behind the camera, the wildly underrated Jeff Tremaine (watch The Dirt on Netflix)...
Let's get to the indisputable list that I didn't reorder when I accidentally clicked out of the tab and lost everything I wrote in the first draft... 
5. Jackass Forever (2022)
To pick up where you left off from is no easy task especially when it is greatness like original trilogy of the Jackass movies. What Jackass Forever succeeds in, over a decade later, is that spirit of punk rock filmmaking. Stunt Comedy = Prank Comedy... while Jackass Forever relies heavily on the stunt angle most of the pranks come from Johnny Knoxville terrorizing his friends. Seeing this in theaters right near the end of the pandemic was an absolute joy. 
4. Bad Trip (2021)
Eric Andre has firmly planted himself as a member of Prank Mount Rushmore... This movie is uses a loose narrative that sends Eric Andre's character, Chris, on a cross country trip to get the woman of his dreams. There are some absolutely wild moments in this movie... Tiffany Haddish is terrific. Remember your goal in these movies is to get reactions out of people and this movie has some major ones from innocent bystanders at a zoo when Eric is raped by a gorilla. Yes, I just wrote that sentence. 
3. Bad Grandpa (2013)
The first Jackass movie nominated for an Oscar, Hair and Makeup, and deservedly. Knoxville returns as a character he made famous in the original Jackass trilogy, Irving Zisman. This is another loose narrative which follows Irving as he is grieving his late wife and is later forced to take his grandson across the country back to his father... Knoxville plays this character so well and the chemistry with Billy, played by Jackson Nicoll is just perfect. These are really A-class performances in this movie it's oddly heartwarming and charming even if Irving attempts to human-traffic Billy at a UPS store.
2. Borat! Cultural Learnings of America for Make Benefit Glorious Nation of Kazakhstan (2006)
Sacha Baron Cohen made his mark on Da Ali G Show and took his career to the next level with the film, Borat. A cultural moment in cinema only occurs so often and Borat was a moment. Borat pranked the entire world, making people believe he attempted to kidnap Pamela Anderson. This movie has stood the test of time as not only hilarious but ironically poignant into the ignorance of both the western and the eastern world.  
1. Jackass 1,2,3 (and the .5s) (2002, 2006, 2010)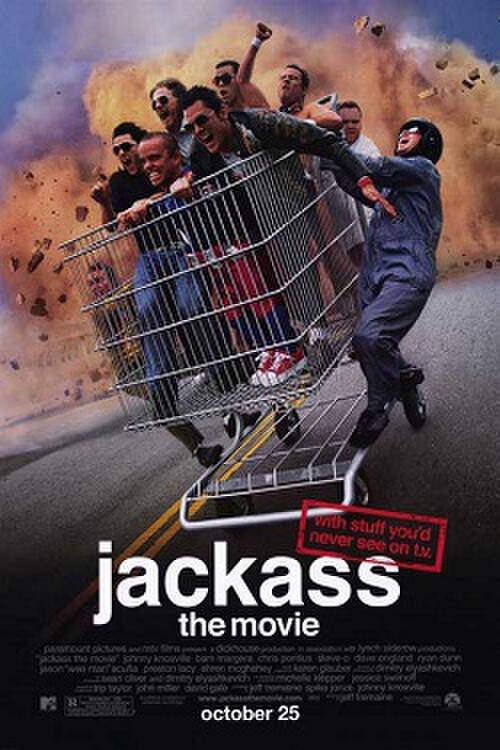 The holy trinity (and it's half brothers)... it was a remarkable time to be a teenager when these movies were entering the world. I mentioned it at the begging but this is the truest representation of punk rock filmmaking. Party Boy, the toy car, wrecking the rental... there are so many moments I could go on and on. Johnny Knoxville and Jeff Tremaine struck gold here. 
Am I missing and Prank Movies? What should I watch next?